Children are adorable! They're at the age where they are curious, ambitious, joyful and high spirited. Many people see a wedding as a time of celebration and enthusiasm. A place where children are not allowed. Everyone has their own thoughts on the matter, but if you're like me and love children, I'm sure that you're eager to find ways to entertain and manage children at the wedding.
(This post contains references to products from one or more of our advertisers. We may receive compensation when you click on links to those products.)
Wagons For Small Children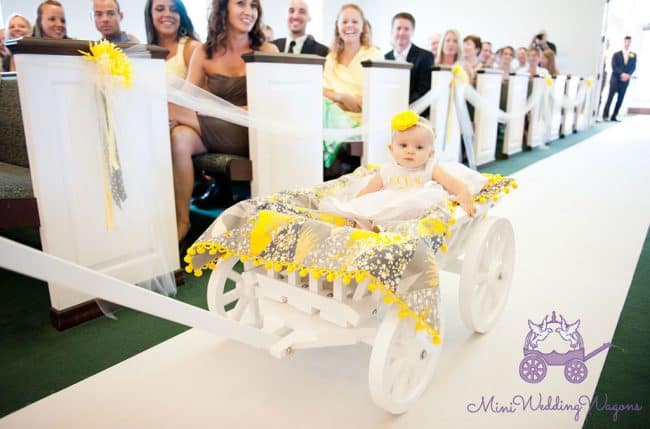 Rather than having your guests push a stroller all day long, why not get them in the bridal spirit with a wedding themed wagon? The younger kids will enjoy this aspect, making them feel like a little prince/princess. Incorporating mini wedding wagons will not only be memorable, but the children will also have another play item for when they meander with friends. Mention the idea to your guests with children and see what they think about the whole idea. I gotta say, it would definitely be cute!
Wedding Cards
Children are creative and love to do crafts. If your worried about children acting out during the ceremony, then why not keep them entertained and distracted. During the ceremony, have an area for the kids to color and make wedding cards in celebration of your marriage. Kids love making things for other people, and this will be a cute way for you and your fiance to make memories.
Specialty Menu & Table
Kids love to role play and have an imagination. When you and your fiance start thinking about seating arrangements, plan to have a separate area so the kids can all be together. This will manage the whereabouts as to where the kids will all be, and make them feel special because they have their very own area. Also, if your guests have food options, give kid friendly options as well. Communicate with the staff, and see if they will play along by acting like the children are royal guests. The kids will get a kick out of the staff, and will let their imaginations play the part. To bypass antsy behavior, arrange for their to be goodie bags on the children's table after the main course is served to distract them from disturbing others right away.
Games
Whether your wedding is indoor or outdoor, make sure to think about the children's attention span. Sure, it will be fun for them to communicate with each other and dress up nice, but they don't want to spend the majority of their night talking to each other at the table.  If your wedding is outdoors, arrange simple games so they can stay entertained. When I was little, my family would let us children roam free and play amongst ourselves. However, once the sun began to set, she would call everyone over and give each child 2 glow sticks for each wrist. At the time I thought she was just a fun mom giving everyone glow sticks. But later on she told me that the glow sticks were her way of keeping track of us. Isn't that something?
Dancing
The best part of the night is when all your guests can celebrate and let loose. This is probably the part of the night where everyone wants to say goodbye to the children. But before they go, why not let them leave in style? Rather than playing "Single Ladies", why not specially request a song for all the children to dance to before they head out. Maybe their dance moves will give you an idea or two for the next time you shake your tail feathers on the dance floor.
Goodbye Kids!
Ok, before mom can turn into a party animal, what happens to the kids? Well, many parents would say that this is the end of the night. Once they bring their kids home they're already out of the party mode. But what if the fun didn't have to end? Whether you take it or leave it, here's a simple solution: Ask the oldest and most responsible children to host an "After Party" for all the younger kids. Have a designated location as to where they will all be staying the night and have pillows and blankets ready. After the wedding, the kids can go to the house and change into pjs for a movie night with all their friends. This way the kids are all together and are ready to crash once they start to get sleepy.
They are many more things that you can plan for the kids, but hopefully these simple tips have opened up some ideas!
Thanks for reading and hopefully your kids are ready to be in the Wedding Vibe!
Free Wedding
Giveaways + Sweepstakes
Enter sweepstakes & giveaways and enter to win a free honeymoon when you join. New winners are announced every week!