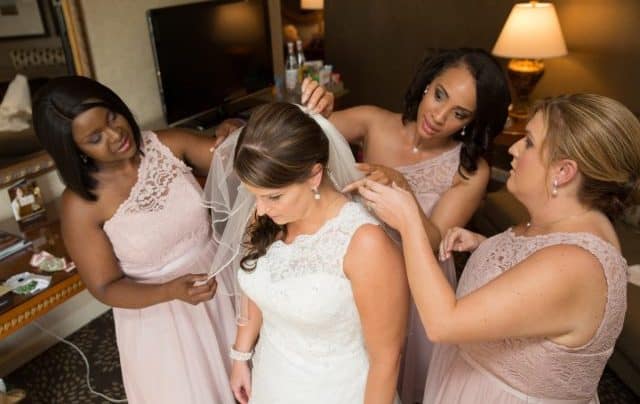 When planning your wedding, there is a lot of thought and work that goes into planning every last detail. From appetizer choices to speciality cocktails, centerpieces and the timing of your cocktail hour, there are many items to cross off your checklist. Even when you think everything is taken care of, there are still small things that can pop up, which is why we encourage you to have an emergency wedding-day kit, holding all of the essentials you might need to prep yourself for saying "I do."
Nails: Nail file, nail polish match, clear coat
Whether you're getting acrylic nails, a gel manicure or just keeping your nails natural, make sure you have a couple of nail accessories on hand. A good nail file is essential for jagged edges or broken tips. If you're wearing a color, get an extra bottle of nail polish in the same (or similar color) in case of a chip. And of course, a bottle of clear coat is perfect for fixing any scratches.
Hair: Hair spray, bobby pins, small scissors
Your hair stylist will likely be with you the day of your wedding, but in case you get your hair done at the salon and then head solo to your venue, make sure you have some backup accessories on hand for any hair mishaps. Grab extra strong hairspray for flyaways, bobby pins for loose strands and small scissors (eyebrow scissors work great!) for any uneven strands that need a quick trim.
Skin: Lip balm, Blistex, Vaseline, body wipes
In prep for your first kiss as a married couple, make sure your lips are moisturized and cold sore-free with lip balm and Blistex. You'd be shocked at how many uses there are for Vaseline. It's great for dry, cracked skin, broken cuticles, irritated areas of your feet from tight shoes, removing makeup and so much more. Also look into getting some body wipes for a quick refresher before getting dressed. You're likely going to be sweating with all of the excitement, so make sure you're ready to combat any stress-related sweat!
Wardrobe: Needle and thread, stain stick, tape, strapless bra
Even after tons of fittings and tryons, wardrobe issues do happen. Stay prepared for anything with needle and thread to handle any snags or tears. This is when the the the scissors will come in handy again too! Keep a stain stick on hand for any spills, too. Consider tape to keep everything in place as you slip into your dress and get ready to walk down the aisle, along with a perfect-fitting strapless bra to make sure you're not tugging your dress throughout the night.  
Other: First aid kit, mints, crackers, feminine hygiene products
Bandaids should definitely be on hand, and a mini first aid kit is a must for unexpected scrapes or accidents. Mints and crackers are also a good idea for fresh breath and a calm stomach. Other miscellaneous products to consider are feminine hygiene products. Although you might not be expecting your cycle to start, stress can cause your body to switch things up, so it's best to be prepared for anything!
With the right essentials on hand, you're going to feel that much more confident going into your big day. The less you have to stress, the more you'll be able to focus on celebrating with loved ones, which is truly what's most important!
Whether it's for your own day or you're attending a wedding soon, keep in touch with the WeddingVibe blog for tons of wedding-related ideas!
Free Wedding
Giveaways + Sweepstakes
Enter sweepstakes & giveaways and enter to win a free honeymoon when you join. New winners are announced every week!