5 Unique Gift Ideas You Just Can't Miss!

5 Unique Bridal Party Gift Ideas
Let's face it: planning a wedding can be stressful. There are so many decisions to make, so many people to coordinate with, and so little time to do it all!
Thankfully, most engaged couples have their friends and family to help them through — especially the select few in their wedding party. On your big day, give your bridesmaids and groomsmen a truly special gift to thank them for helping you with the wedding planning process.
For the Bridesmaids
Most brides choose the women closest to them as their bridesmaids. These women have shared many memories with you, and they're about to share another: your wedding day.
They deserve a beautiful memento of this special memory that you all share. Elegant jewelry is always a hit among bridesmaids. A personalized necklace, engraved with their name and the date you two met, can be a gorgeous way to celebrate your friendship — and it also makes for a great accessory to wear at the wedding!
Of course, there are other ways to memorialize your special day with your bridesmaids. Science has shown that scent is closely tied to memory, so why not use this natural connection to enhance your memories of the celebration?
Give each bridesmaid their own bottle of a signature perfume (bonus points if you find a scent that matches your wedding locale). Each time your friend wears it, she'll remember the fun you had together celebrating your nuptials.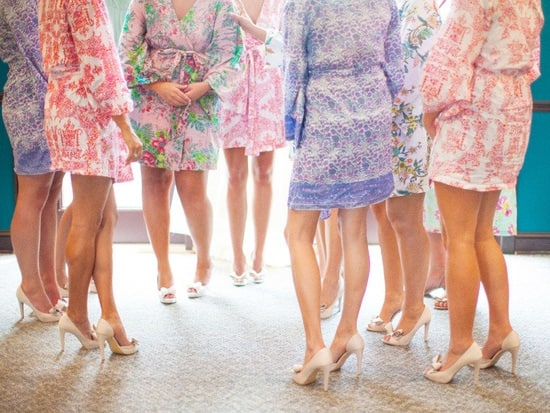 For Everyone
These days, wedding parties aren't always divided along gender lines. So what should you buy for a unisex wedding party? The answer depends on your friends' tastes, but there are some gifts that will impress both sexes.
You can make sure everyone gets to the church on time by outfitting your whole bridal party with unique engraved wooden watches! This hits the wedding gift trifecta — it's practical, beautiful, and a special way to remember your big day.
For the Groomsmen
Let's not forget the groom's supportive friends. Make sure that your man has his own set of gifts for his best buddies!
A DIY cocktail set can help them all get the party started before the ceremony. A mini bottle of their favorite liquor, plus all the fixings for a mixed drink.
If you're looking for a gift that will last longer, consider how your future husband and his guys spend time together. Are they movie buffs? Outdoorsmen? Sports fans? Find a gift that suits their style.
For example, outdoorsy groomsmen are sure to love an engraved pocket knife or another personalized tool to help them on their next hiking or camping excursion. Get creative and you'll find the perfect gift!
As you continue planning your wedding, don't forget to thank the people that help you make this day special. Make sure that when the big day comes, they have something remarkable to remember it by.
Free Wedding
Giveaways + Sweepstakes
Enter sweepstakes & giveaways and enter to win a free honeymoon when you join. New winners are announced every week!