Are you invited to a wedding party next week and are still undecided about what you will wear to the party? Many women make this mistake only to find that they have to make do with whatever option is available to them in their wardrobe. You need to plan and decide much in advance if you are desirous of outshining all others at the party. If you look inside your closet and find no dress suitable for wearing to this wedding party, you need to begin your search for a wedding dress.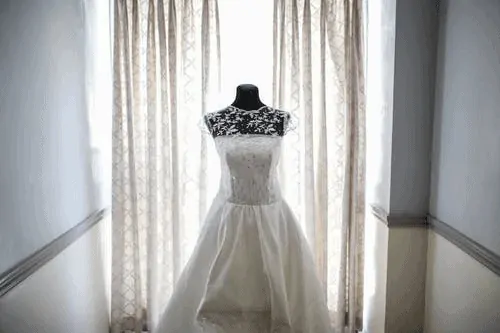 Here are six things to consider when choosing your wedding gown if you plan to buy a new one from the market.
No Dearth of Sources for Wedding Dresses
There is no need to worry if you are still undecided about what to wear at the wedding party scheduled for next week. Today, hundreds of sources of high-quality wedding dresses are not only for the bride and the groom but also for those attending the wedding as a guest. Jovani wedding guest dresses make lives easier for guests not having a clue as to what to wear at the event. You can see the collection at a store near you or pay a visit to the company's online store. With the biggest problem of the source of dresses sorted out, it is time to learn about things to consider when buying a wedding dress as a guest.
1. What Color Should You Buy?
It may come as a surprise to you that you need to pay attention to the color of the dress you are buying. You don't want to be the odd man out at the wedding because you are wearing a too flashy or bright color, making everyone look at you. As a general rule of thumb, avoid buying a white wedding dress. You don't want to be competing against the bride, do you? Choose white color only if the bride has made a specific request to this effect and the invitation mentions this request.
You can decide on the dress's color by keeping in mind the season of the year, the venue, the level of formality, and the time of the day. Wear light colors if it is a daytime wedding, and the location is outdoors. Colors for the evening wedding can be bright and dark. You should avoid black color if the marriage is informal and takes place in the daytime.
2. Level of Formality in The Wedding
Always keep in mind the level of formality of the wedding when buying a dress as a guest. You have no choice but to wear a wedding gown if the wedding you are attending is a formal one. You can start to be flexible when you learn it is going to be a semi-formal wedding. You can take out your little black dress to up the ante and look glamorous in the informal wedding taking place in the evening. The fact that it is an informal wedding casual means you can get away with the requirement of high heeled shoes. Also, the formal gown gives way to a party dress. The extreme is, of course, a beach wedding where you are free to wear off the shoulder dresses or a knee-length, polka dot dress. However, even a beach wedding is a classy affair, so do not dare to attend the wedding wearing shorts or a denim skirt.
In the evening, an informal wedding gives you an excuse to take out your sleeveless maxi dress and pair it with your flat shoes to attend the party in total comfort. On the contrary, a black-tie wedding means you need to put on your best formal dress and complement it with matching shoes and accessories.
3. Time of The Day
Time of the day plays a vital role in influencing the choice of clothes people wear at weddings. Daytime weddings are more relaxed and informal than evening events, reflecting in the dresses ladies wear during the ceremony. You can choose your attire from various pastel shades if the wedding takes place in the daytime. Evening events are usually associated with dark colors like black, navy, maroon, red, dark green, and dark blue.
4. Are you a Close Friend or Relative
Ethnic or traditional wedding dresses are expected from close relatives and friends to show their closeness with the bride and the groom. If you are one of the inner circle, it is incumbent upon you to buy a formal dress that is suitable for the occasion. On the other hand, you have a lot of flexibility regarding the clothing you wear when you are not very close to the bride and groom or just have a working relationship.
5. Weather Conditions on the Day of the Wedding
Season of the year and weather conditions on the day of the event dictate the dress you need to wear. If it is hot and sweltering and the wedding venue is a beach, you can opt for lightweight clothing in light colors. On the other hand, dresses in dark colors and heavy fabrics look suitable for a winter wedding.
6. Your Age, Physique, and Personal Style
The one factor that is most important in choosing your wedding dress is nothing else but you. If you are young, you can choose a trendy wedding outfit and also quite bold and carry it gracefully. But when you are old, you need to wear something according to your age and look good on you. Your personality and personal style are more important than the dress you choose to wear. There is no point in buying what a celebrity wore at a wedding recently if it does not suit your physique and personality.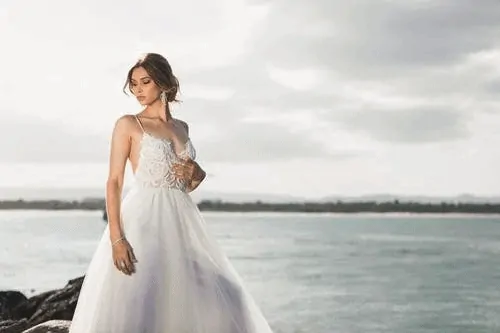 In the end, just remember that your wedding dress is defined by you and not the other way round You are going to attend a wedding to have a good time interacting with friends and enjoying the food and beverages. If you keep the factors mentioned above, you will find that you choose a visually appealing, trendy, and suitable dress according to the occasion.
Free Wedding
Giveaways + Sweepstakes
Enter sweepstakes & giveaways and enter to win a free honeymoon when you join. New winners are announced every week!