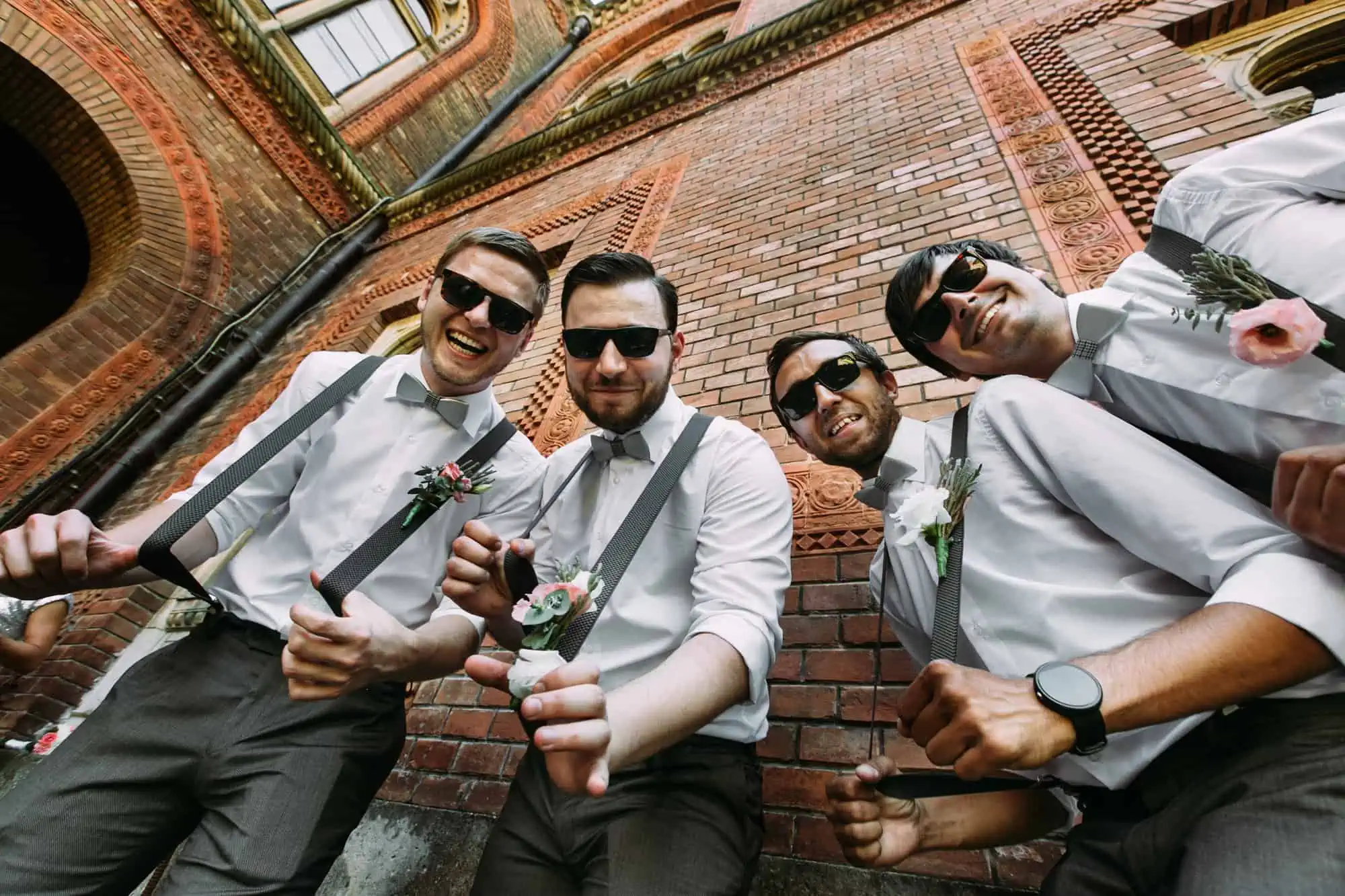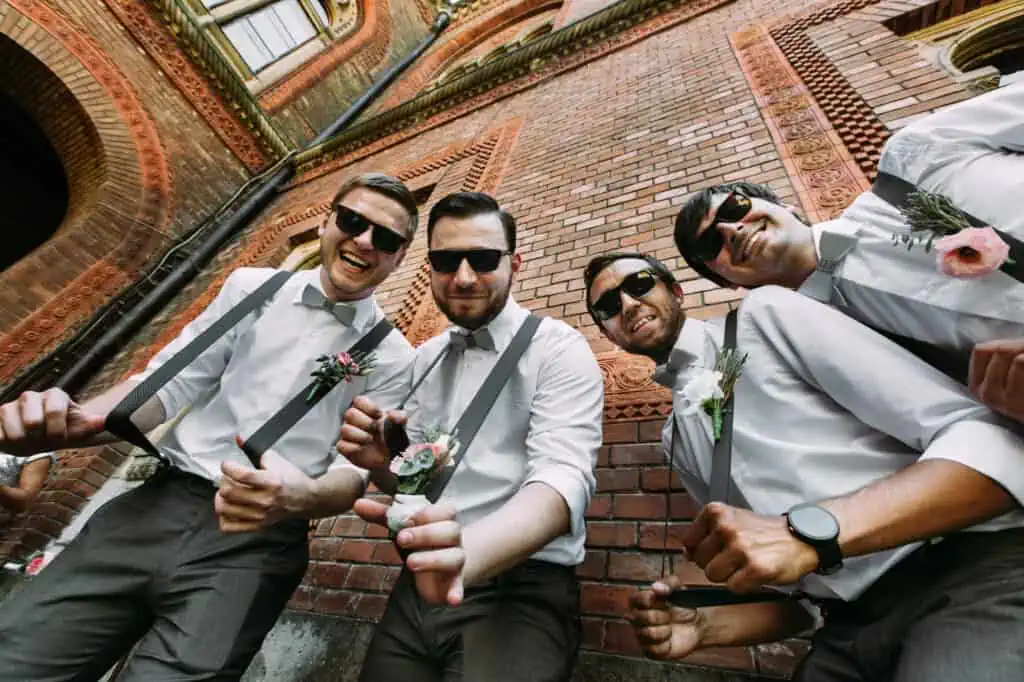 When you think about a wedding, what immediately comes to mind? The lovely couple, the vows, and the joyous celebration, right? However, stepping into the shoes of a groomsman unveils a different perspective – one laden with responsibilities.
The scenario intensifies when the wedding isn't just an ordinary ceremony but a destination wedding, be it on a sun-kissed beach in Bali or within a historic villa in Italy. Suddenly, the role brings the challenging task of selecting appropriate attire.
So, how do you choose the perfect attire for a destination wedding? This guide offers valuable pointers to ensure you're looking your best as you support your friend on his big day.
Understand The Wedding Theme And Location
Knowing the theme of the wedding and the venue details is paramount in choosing your groomsman attire. Is it a beach wedding, a countryside event, or a sophisticated city affair? The location and theme can guide your decision-making process.
A beach wedding, for example, might call for a lightweight linen suit in a bright hue or earth tones. This fabric breathes well, which is crucial under the hot sun. A countryside wedding might be more casual, so a blazer with chinos could be appropriate, paired with a smart-casual shirt. In contrast, a city wedding might require a sharper look, such as a tailored suit paired with fancy wedding ties.
The prevailing climate is another essential consideration when choosing your attire for a destination wedding. After all, uncomfortable temperatures can mar your experience at the ceremony or reception. Therefore, acquaint yourself with the typical weather conditions for the specific season and location of the wedding.
In hot or humid conditions, opt for breathable, light fabrics like cotton or linen in light colors. In colder climates, consider wool or tweed suits in deeper tones. Remember, comfort is just as important as style when enjoying the big day. So, you'd want your attire to be comfortable enough to allow you to move freely, dance, and enjoy the celebration without hindrance.
When it comes to footwear, opt for stylish yet comfortable shoes. You'll likely be on your feet for a long time. So, while those patent leather shoes might look great, ensure they're also comfortable and suitable for the event.
Coordinate With The Other Groomsmen
Consistency among groomsmen enhances the overall aesthetic of wedding photos. Therefore, coordinating with your counterparts and the groom is essential to ensure everyone is in harmony.
For some weddings, the groom might want all groomsmen to wear identical suits. In other cases, there could be more flexibility, allowing for personal style within a specific color palette. Regardless, it's essential to communicate effectively with the other groomsmen and follow any guidelines provided by the groom.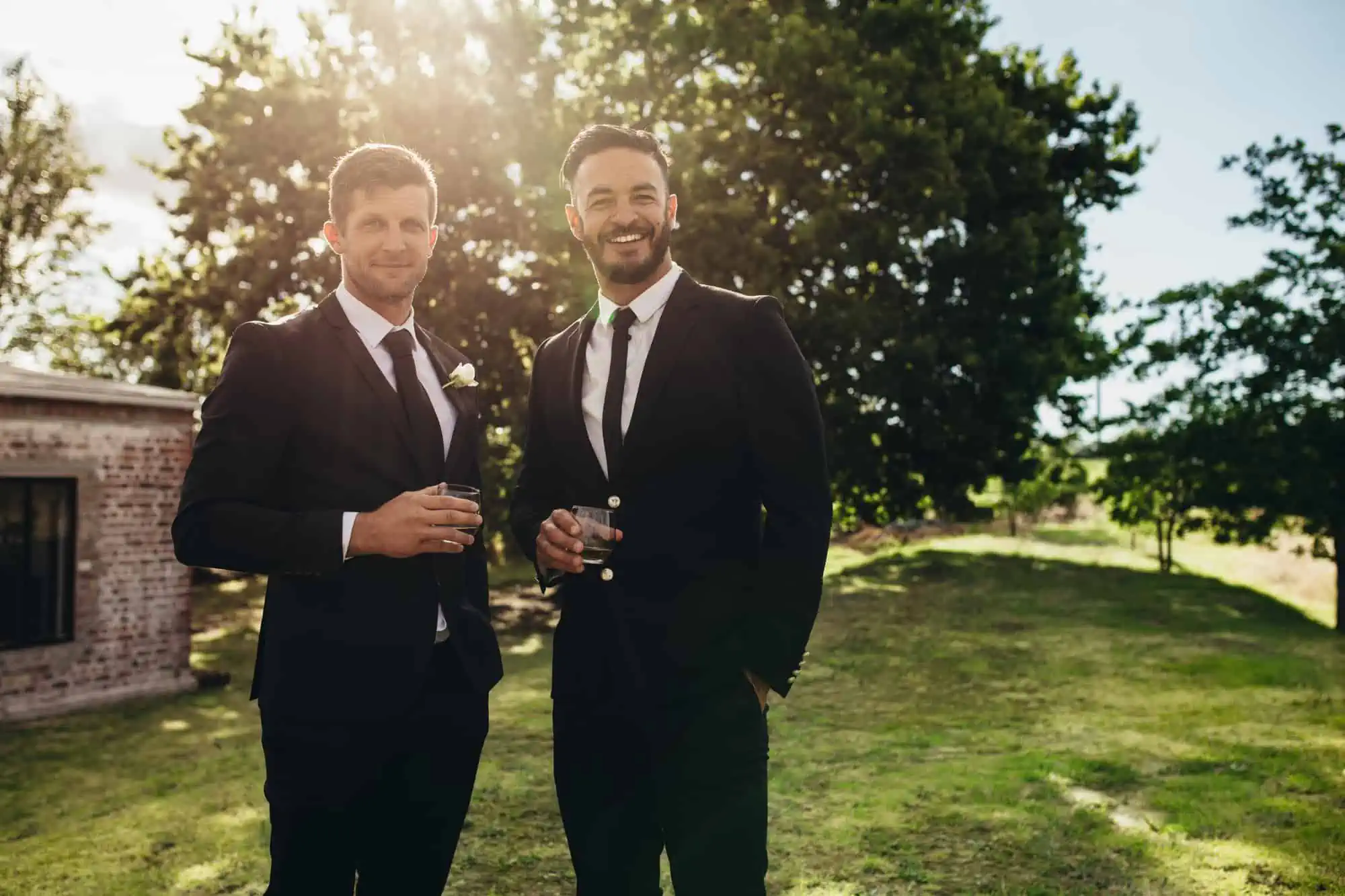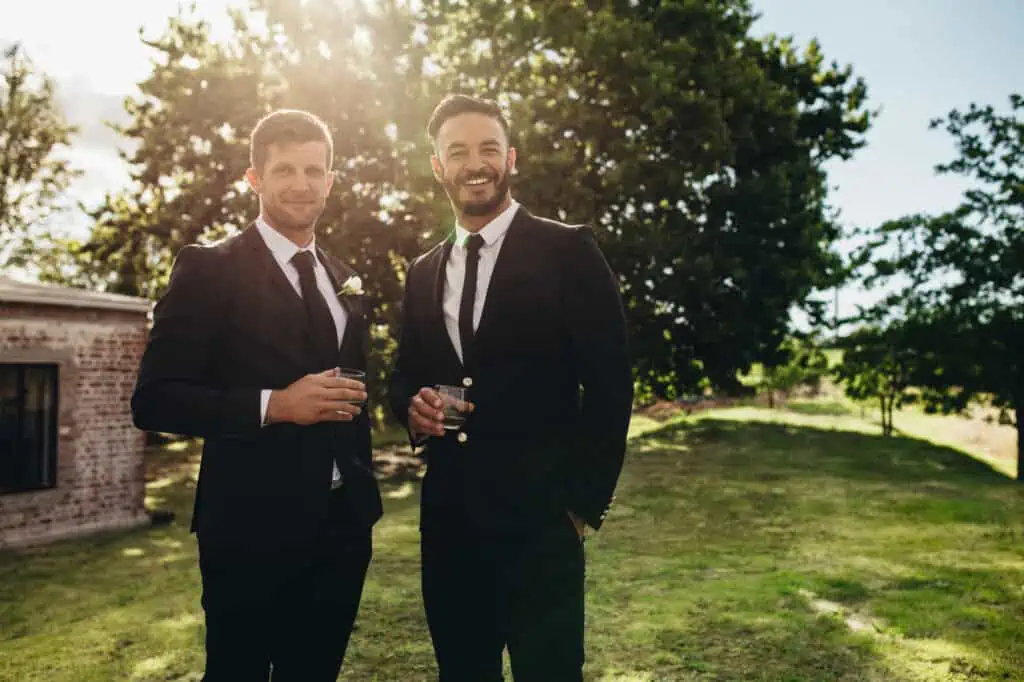 Don't Forget The Accessories
Accessories can truly complete your groomsmen's look. Whether ties, pocket squares, cufflinks, or socks, these pieces can add a dash of personality to your outfit. However, they should be chosen carefully to match the style and location of the wedding. Moreover, keep in mind any color schemes or themes the couple has chosen, as your accessories can help to reflect these.
For instance, a light-colored pocket square or a fun pair of cufflinks could add to the laid-back, festive atmosphere of a beach wedding. On the other hand, a classic tie or bow tie, elegant cufflinks, and a sleek pocket square can add the finishing touches for a more formal affair.
Consider Local Customs And Cultures
Lastly, respecting the destination's local culture is a vital part of choosing your groomsmen attire. Some places might have specific customs or dress codes you should know. For instance, some cultures might consider particular colors or styles inappropriate or unlucky.
On the other hand, integrating local tradition could lend a unique flair to your ensemble. For example, if the wedding is in Scotland, consider wearing a traditional kilt. In India, a vibrant Sherwani could be a fitting choice.
Researching these details beforehand allows you to show respect for the couple's chosen destination. So, don't hesitate to consult the couple if you're unsure about your attire. They'll appreciate your consideration and effort to blend with the local culture.
The Bottom Line
Choosing groomsmen attire for a destination wedding extends beyond merely selecting a suit from a rack. It involves understanding the wedding theme and location, coordinating with fellow groomsmen, factoring in the climate, and respecting local customs and cultures. Moreover, ensuring comfort throughout the event and meticulously selecting accessories to match the occasion is equally vital.
Remember that your role carries significance, and your attire should reflect your integral participation. With these tips, you can confidently make a sophisticated impression, bringing style, elegance, and enjoyment to this unforgettable occasion.
Free Wedding
Giveaways + Sweepstakes
Enter sweepstakes & giveaways and enter to win a free honeymoon when you join. New winners are announced every week!