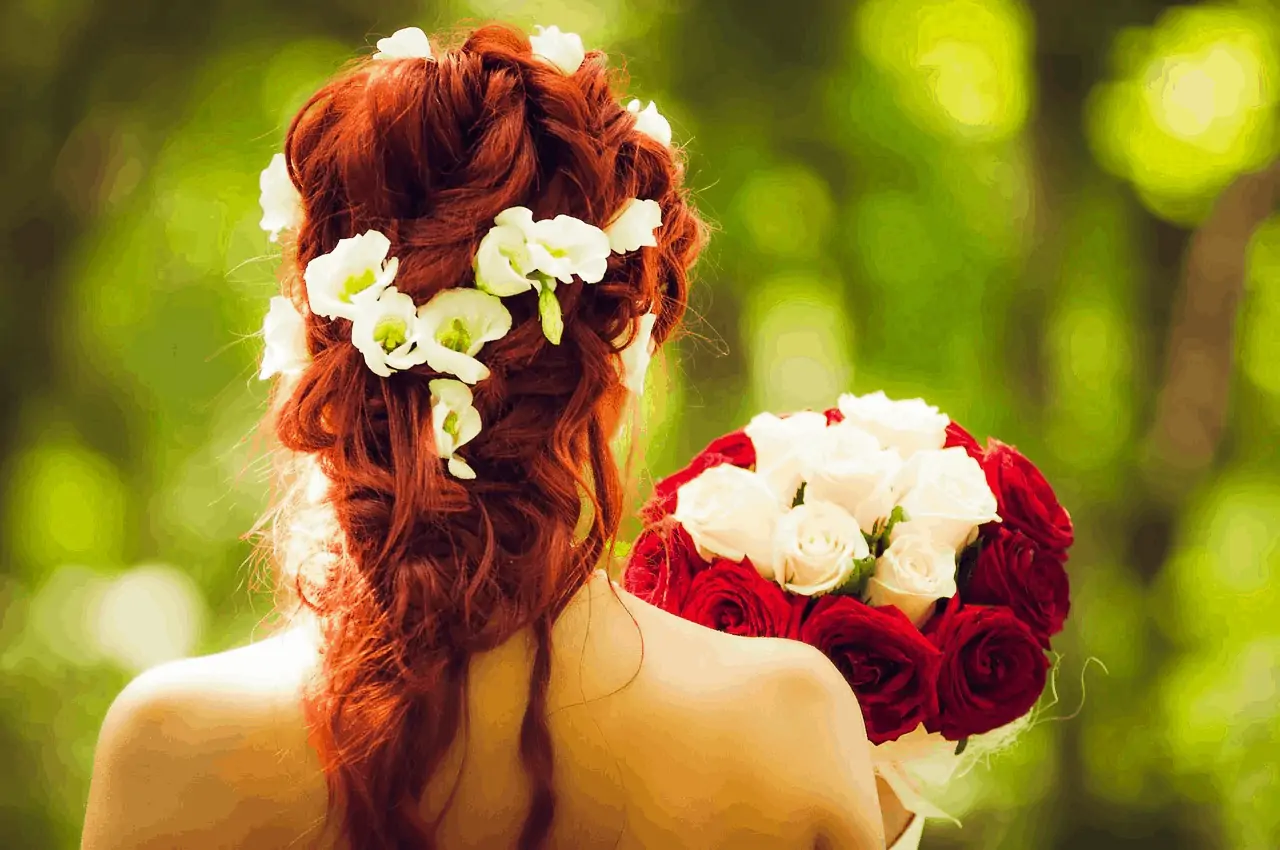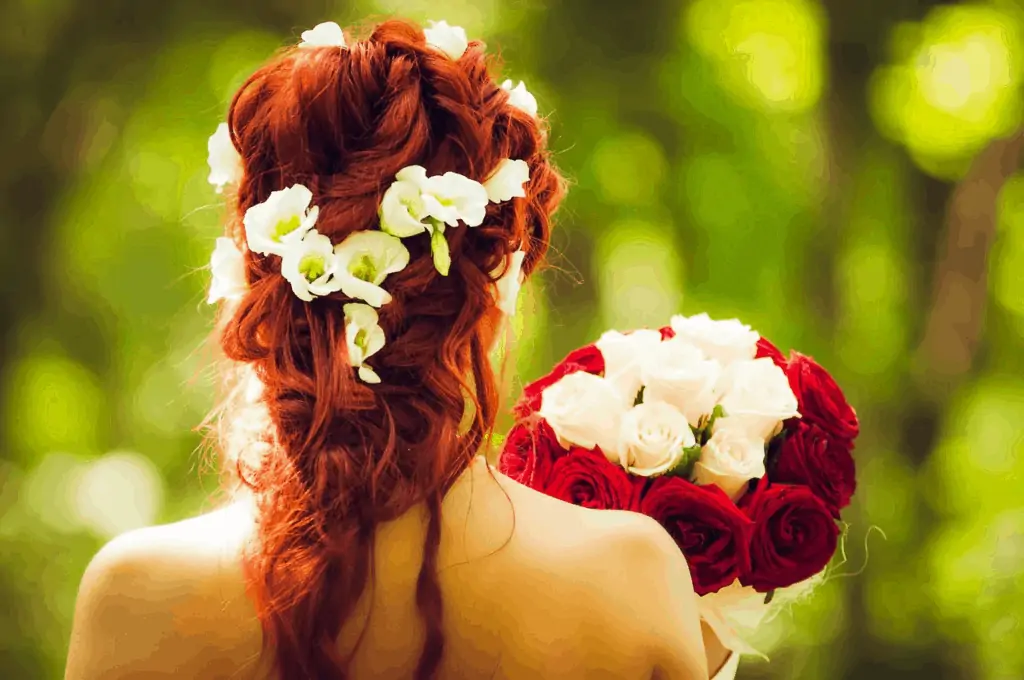 When it comes to weddings, flowers are not just something that the bride may have as part of the traditional bouquet, but they can be a key part of the day in so many ways. They can dictate the theme, provide a backdrop to the big day, and be a symbol of love and happiness. While, of course, we are all aware of flowers being associated with love, there are so many different flowers that are associated with different personality types. It's worth considering this when you are trying to put a sprinkle of magic on your big day that represents aspects of your personality or your loved ones. Let's show you some of the flowers that symbolize certain personality traits so they can fit in with your big day.
Roses
Depending on the color, roses can have different meanings. Of course, roses in red are symbolic of love and desire. But dark red is a symbol of unconscious beauty. Roses can also mean tranquility, which forms a key bouquet provided by Today Flowers and other providers. White roses are representative of purity and innocence, as well as silence and irreverence. Orange roses are symbolic of desire and enthusiasm. Lavender roses represent love at first sight. If you are looking to add a little bit more character to your day, it's not just about picking flowers that look good, but you can use roses as a symbol on so many different levels. Roses can send the message out that you are someone that thinks with your heart.
Daisies
The name "daisy" comes from an old English word that means "day's eye." It represents hope, purity, and innocence. And if you are someone who is keen on this understated flower, you may be forgiven for thinking it is not an ideal wedding bouquet, but daisies are a wonderful way to sprinkle some sheer on your big day. Gerbera daisies come in bright colors, which are totally worth it on your wedding day, as they signify cheerfulness. If you are someone that always knows what to do to make people smile, daisies are a fantastic choice.
Tulips
They are usually significant in weddings as they are a symbol of love. Red tulips are considered to be a declaration of love. Variegated tulips represent beautiful eyes. If you are someone who wants style in their wedding bouquet, you don't have to look further than this. If you are looking for something more on the regal side, you could opt for purple tulips as they are symbolic of royalty. But if you want something bright, yellow tulips could mean the sunshine in your smile.
Daffodils
A popular flower in Wales, the vibrant yellow and beautiful-looking flowers are a symbol of friendship or regard for someone. If you are someone that puts your friends and family first, daffodils are a perfect addition to your wedding bouquet. It's also a great way to show off any Celtic heritage.
Lilacs
Useful in their symbolism. But each color represents different facets of love. For example, purple lilacs are representative of your first love. If you are someone who is nostalgic in your attitudes, loves black and white movies, and wants a little bit of classicism to your wedding, lilacs should be part of your bouquet.
Peonies
For the positive people who like elegant flowers, peonies are symbolic of compassion, and happy life. While they can resemble bashfulness or shame, the peony is also symbolic of prosperity and happy marriage. A very thoughtful and elegant flower without being overbearing, the peony is a wonderful flower that, when it blooms, can signify a vibrant day.
Orchids
Orchids are exotic flowers. They are sophisticated, making them ideal for regal wedding celebrations, but they are also a symbol of femininity. If you want a sophisticated wedding day, the orchid is a stylish choice that is symbolic of you being refined in your details.
Lilies
One of the purest flowers, lilies symbolize refined beauty and purity. However, the colors are representative of different meanings. For example, orange lilies are more symbolic of passion, rather than the modest white lily that symbolizes virginity. Also, the Lily of the Valley represents the purity of heart, and they are a perfect choice for someone who is happy, impassioned, and someone who likes to stand out in a crowd, but not too much. But this is your wedding day, so your choice of lily is a wonderful way to highlight your accomplishments.
Poppies
Red poppies are very popular in the UK every November and symbolize consolation. However, yellow poppies are symbolic of wealth and success. If you are looking for a way to be quirky and creative with your bouquet, a yellow poppy is a wonderful way to make it bold and colorful.
Carnations
Carnations are symbolic of different meanings. Pink carnations symbolize the love of a woman, making it an ideal choice for same-sex marriages. But red carnations represent pride, admiration, and love. A carnation is a wonderful down-to-earth choice and is a simple option for those that want to look stunning on their big day.
Sunflowers
Always welcome during the summer months, the sunflower is symbolic of dedicated love, pure thoughts, and adoration as they turn to face the sun. Sunflowers are always warm, bright, and make a wonderful statement piece to your wedding bouquet.
Zinnias
This is a very passionate choice of flower. A colorful flower that is related to the daisy family said to symbolize thoughts of absent friends. A wonderful way to incorporate your bouquet with memories of people who have waited for your wedding day but have not been able to make it. And in the current climate, due to reduced guest capacities, this might be the ideal choice. It's a wonderful flower for someone who is a passionate person who wears their hearts on their sleeves.
Choosing your favorite flower means choosing a symbol for your personality type. Try some of these flowers and you can make a massive difference to your bouquet.
Free Wedding
Giveaways + Sweepstakes
Enter sweepstakes & giveaways and enter to win a free honeymoon when you join. New winners are announced every week!