When it comes to diamonds it is definitely a case of the bigger the better in the current day. Big sparklers have truly taken over. However, not everybody has the money to be able to afford large diamonds.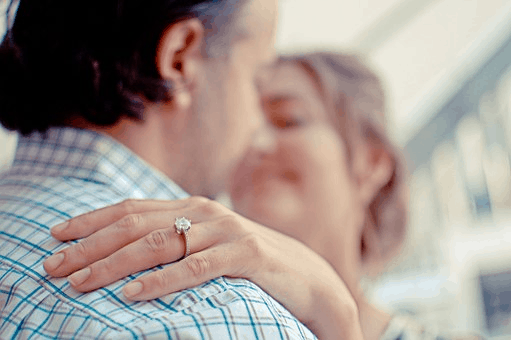 If this applies to you, don't worry, it is not all doom and gloom. You can use the powers of illusion at your disposal if you are a savvy shopper when shopping for an engagement ring. Read on to discover how you can make your diamond ring look bigger than it actually is…

#1 – A slim band
Choosing your band wisely is the first thing you need to contend with. In general, you can choose between both a slim band and a thick band. The former will generate a greater amount of focus on the diamond because it allows it to stand out more in comparison to a thick band. It also increases the total amount of light that is reflected into the viewer's eye as well. This is why a slim band makes your diamond look a lot bigger and thus is highly recommended.

#2 – Diamond shape: Oval, pear of marquise
In essence, this means that you should go for a fancy diamond shape. Any diamond that is not cut as a round is labelled as 'fancy'. The best options to go for when you want to make your diamond appear bigger is either pear, oval or marquise. This is because they tend to be a lot longer than the other shapes.

#3 – Shallow diamond cut
This is something you need to be particularly careful with because essentially you are compromising the quality of the cut. However, by allowing some of the light to spill out by going for a shallow cut you can actually make your diamond appear bigger because the face looks larger.

#4 – Clean and clear
Making sure your diamond is clean is not only important for beauty purposes but it can help make the diamond appear larger as well because it enhances its reflection capabilities. This is why a clear diamond is recommended as well. It has the exact same effect.

#5 – Halo setting
A halo setting is advised for anybody who wants to make their diamond look bigger. Your centre stone is going to be placed next to an array of little diamond stones and thus this will enhance the impact of the diamond in the middle. If that wasn't enough, halo settings are simply beautiful and are undoubtedly the most popular engagement ring setting available today.

#6 – Custom made engagement ring
Last but not least, there are many reasons why you should consider having a custom made diamond wedding ring. However, when dealing with this subject topic specifically, the experienced jeweller can work with you to come up with a bespoke design that is centred on making the diamond appear bigger.

More tips on finding the perfect engagement ring

An engagement ring is one of the most important purchases you and your partner will ever make. After all, it is a symbol of your love – and a beautiful symbol at that! You want a ring which you can show off to all of your girlfriends and that you can be proud of. Whilst we can all pretend that we would be happy with any old ring and it is the thought that counts, we all know that is not entirely true. Therefore, to ensure you boast a beautiful engagement ring, we've got some further tips…

Shop together
Traditionally, your boyfriend will propose to you as a surprise and he will have an engagement ring ready. However, in the modern day, it is becoming more common for men to propose with a token ring, thus the surprise is kept yet you and your partner can shop for engagement bands together. This is highly recommended because as much as someone may think they know you, only you can look at an engagement ring and decide whether it is perfect for you or not.

Design it together
Instead of looking for readymade engagement rings, you should consider the option of custom jewelry. This is the best way to benefit from a ring which is exactly how you want it to be. You and your partner can even incorporate symbols which represent your relationship. After all, every shape and colour has a meaning and thus you can be clever with the way in which the ring is designed so that it has an extra special meaning attributed to it.

Nevertheless, you have to be wary when getting a ring custom made. You need to have a distinct picture of the sort of ring you are looking for. Of course, the jeweller will be able to give you advice and information regarding what will work well. However, you can't go in there as an open book as there are simply too many metal choices, diamonds, stones, colours, and diamond shapes which you need to consider.

Do your research
There is no such thing as knowing too much. You should spend hours looking on the internet, trying on different rings, looking at celebrity engagement bands, and so on and so forth. By doing this you will ensure that all corners are covered and thus you will never have that horrible experience whereby you buy a ring, and then a few weeks later you see something else which you prefer!

Free Wedding
Giveaways + Sweepstakes
Enter sweepstakes & giveaways and enter to win a free honeymoon when you join. New winners are announced every week!