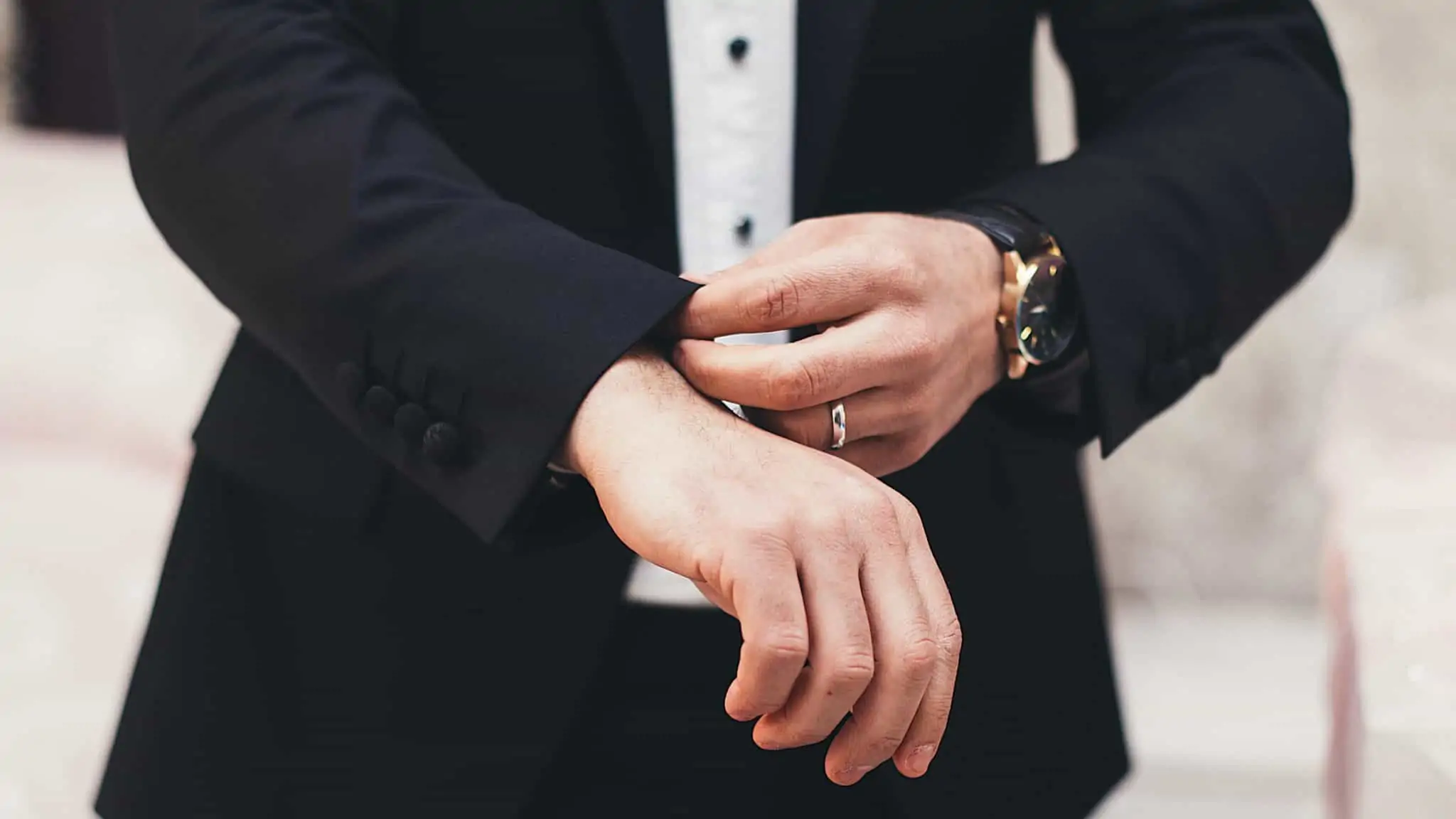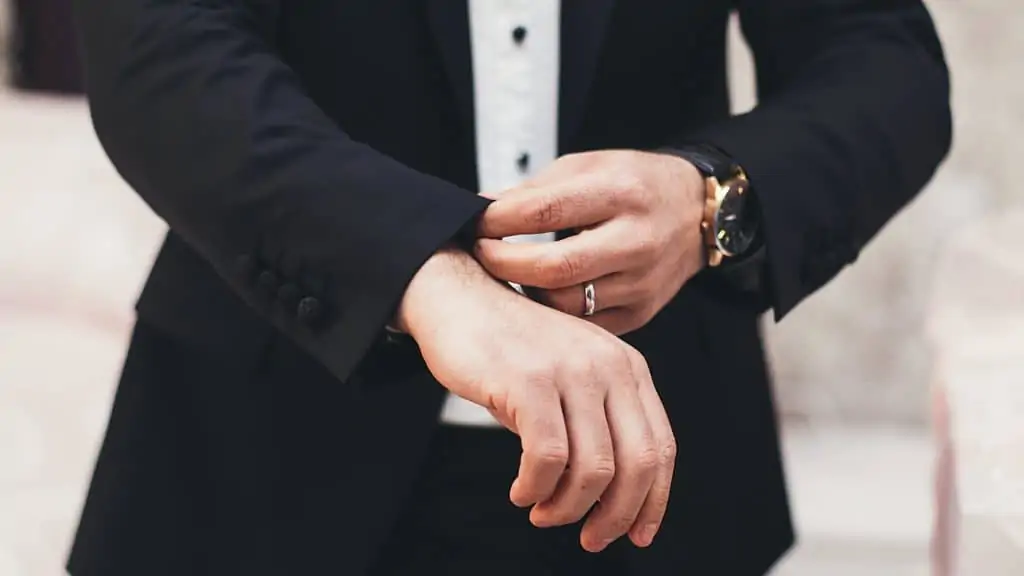 Meta description– Looking for inspiration for your special day? Here are some ideas for groom accessories to make your wedding more dapper.
Are you ready to commit to the vow "till death do us part"? We know you might be gearing up for the big day with an equal sense of excitement and dread. Let's face it, weddings are fun; but maybe not so much for those who are in charge of all the arrangements. And when we say wedding arrangement, there are hundreds of little details to be considered, just for an event that will last a few hours. From selecting dresses, decoration, catering to wedding rings, you will never run out of things to do.
However, with the bride staying as the star of the day, the groom's appearance kind of takes a backseat. While grooms might feel relieved to be saved from all the attention, the grooms too should make an effort to look their best at weddings. Here are ten unique accessories that will elevate the groom's look to another level.
Wedding Band
Rings are considered an essential part of weddings. However, there are few options to consider when it comes to selecting a groom's wedding ring. While most people go for a gold or platinum wedding band, you can consider a platinum wedding ring to get a unique look. Tungsten rings for men are a good fit as a wedding band; they are durable and scratch-resistant. 
You can have customized engraving on the wedding band.  However, make sure you check it fits perfectly as they can't be resized later.
Neckwear
Neckwear might be the most crucial part of your outfit that can either make or break your overall look. With the myriad of patterns, colors, and materials, it is fair to say you will have a hard time choosing the right one for your wedding. Besides, there are also knot types to consider. While Windsor might be the classic or safest choice, be open to other tie knots that will add a different touch to your appearance.
Keep seasonal appropriateness when you are selecting a tie material. If it is a spring wedding, choose a cotton or silk necktie. For a winter wedding, jacquard, knitted, or velvet tie will be good options. You can go either floral or colorful for a bold statement or a more formal appearance with a classic black tie.  
Cufflinks
Few pieces of jewelry magnify a groom's appearance, like cufflinks. It adds elegance and sophistication to your looks. Most cufflinks are made of metal, and you should make sure that they match with other metals you are wearing. For instance, wearing a gold cufflink with a tungsten ring might not be wise. 
While selecting cufflinks, start with the shirt and then the suit. You can also consider getting matching cufflinks for all the groomsmen.
Watches
Watches or pocket watches, which one should you go for? If you want vintage and elegance, then you should choose a pocket watch. First, for a pocket watch, learn how to position it, giving the right amount of old-time vibes. However, your watch might be the largest piece of jewelry that you wear at your wedding, so make sure it doesn't clash with the bride's jewelry.
Shoes and Socks
For shoes, don't make yourself confined with just classic black or brown leather. You can go a little wild, choose a personalized converse that matches your groomsmen, or wear all white. However, make sure the shoes are comfortable for being on your feet all day. Although socks stay hidden by your shoe, they can be bold fashion statements if you put a little thought into them.
Pocket Square
Pocket Square, along with the necktie, is enough to make a colorful look for your wedding. While you can choose any material, color, or pattern for pocket folds, one thing you should not underestimate is the fold. Pocket squares are tricky to fold that will come across as elegant. For adding a little quirk to your style, you can add small embroidered texts or symbols that mean something special to you.
Belts and Suspenders
While you rarely can go without a belt at your wedding, suspenders are entirely optional. Suspenders should be worn only if you can pull them off; not many can wear suspenders and look crisp. Adding suspenders can provide a vintage or retro look to your wedding attire. However, suspenders and belts are not meant to be worn together, as they serve the same purpose. 
If you are wearing leather belts, make sure it matches with the leathers on your shoes. However, if you are going for an informal look, you can go without matching your shoes and belts.
Cummerbunds
Cummerbunds might not be as popular as suspenders, but they do have a classic look. This pleated waist sash will especially look good if you are wearing a tuxedo or jacket. Make sure it covers the end of your shirt. If you are looking for another waist covering option, you might opt for a waistcoat. But wearing a cummerbund and a waistcoat together at once, or a cummerbund with a suit, are not wise options. 
If you are wearing suspenders along with cummerbunds, make sure the cummerbunds layers above the suspenders. You should also pair your cummerbund with a bow instead of a tie.
Sunglasses
If you are having a spring outdoor wedding in broad daylight, you should add sunglasses to your shopping list. Besides, the right pair of shades can elevate your look to another level. Choose something classy so that you won't feel embarrassed for years to come when you show your wedding pictures to your kids and grandkids.
Lapel Pin
Lapel pins might be the smallest of all groom accessories, but it carries the weight to render your look to a success. You can go as extravagant or as conventional as you want with lapel pins; you have complete freedom there. However, most grooms opt for a floral lapel or a boutonniere (French for buttonhole) that is both classic and elegant. 
You can choose a customized lapel pin that displays your favorite memorabilia that symbolizes something special. Make sure you wear the lapel pin at the upper part of the left lapel of your jacket.
On a final note, weddings are once in a lifetime experience for some. So make sure you look your best on this special day with all the necessary accessories. However, the most important and priceless accessory you can wear on your wedding day is a smile. Don't forget to turn up the smile on your face!
Free Wedding
Giveaways + Sweepstakes
Enter sweepstakes & giveaways and enter to win a free honeymoon when you join. New winners are announced every week!