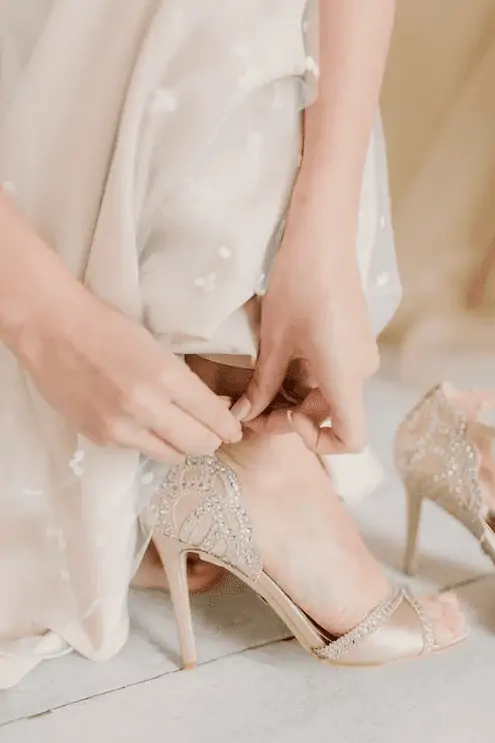 The bride's shoes are always the center of attention at the ceremony and reception. Those shoes say a lot about you. Shoes are an important part of every outfit, and they make an even bigger statement at a wedding. Wedding shoe selection is a source of stress for a lot of brides. Because there are so many alternatives, it's natural to feel overwhelmed. Now the question is, how do you go about selecting the ideal footwear? Here, you'll find out.
How to Find the Perfect Wedding Shoe
Your choice of footwear for your wedding has the potential to either make or break the experience for you. Therefore, you need to give it some serious thought and pick the option that best suits your needs. When you go shopping for bridal shoes for your big day, make sure to keep in mind the five factors that are listed below.
Decide on comfort.
Before choosing the style and brand of the shoes, consider the size of the heel. Heel size matters and determines comfortability. Ensure the shoes and heels match the occasion and the day's weather. A higher heel height won't be more comfortable at a wedding where there's a lot of standing. Medium-heeled shoes and sandals will be preferable, as they place less strain on your feet. Open-toe shoes are best for hot climates, while closed-toe shoes are for cool climates. Regardless of whether you choose a stiletto or a block heel, make sure your bridal shoe is both comfortable and stylish.
Choose a matching dress.
Think about style, color, and, of course, the size of the wedding dress. If you have a look, style, and all the details of the shoes for your wedding in mind but haven't decided on what to wear on your special day, hold on till you find the best attire or gown. This would be important if you wanted your wedding shoes to match your white gown. If the dress is a long gown, the shoes aren't going to be very visible. However, if the gown is short, have shoes that are attractive to accentuate your dress.
Select a shoe style.
Your bridal shoes speak volumes about you, so don't feel afraid to choose something that makes you more comfortable and stylish. There is a range of shoes to match your wedding gown. You can choose from mid-heels, flats, block heels, pumps, or stilettos. Buy shoes that you'll feel proud of it, and that will add to your looks on your special day.
Try on wedding shoes before you purchase them.
Whenever you're shopping for wedding shoes, it's important to try them on before you make a purchase. Online shoe stores provide a range of shoe designs and styles. And you can even select a shoe size, color, and other details. Unless the shoes are custom-made, it's best to buy shoes from a shoe store or boutique near you. That way, you can have the necessary adjustments made, or return them if they are uncomfortable.
Think about the Arena.
Finally, you need to consider the wedding venue and the reception. If you'll be tying the knot outdoors, you likely won't need heels. But if it's a closed arena like a church, heel-height shoes are preferable. Weather is also something you need to check on, depending on the weather experienced during the special day.
Have Options for Buying Wedding Shoes
Once you pick the theme color of the wedding and the gown to put on, it's necessary to research where to purchase the wedding shoes. Start with your local boutiques; a good number have pretty good shoes that suit your special occasion. Many retailers have websites, so you can compare shoe designs and prices.
What to consider when choosing heel height
1) Terrain
The venue is an important aspect to consider before purchasing shoes. For instance, sandals and flat shoes are suitable for beach weddings as they're comfortable. If you are holding a garden wedding, you will want to opt for mid-heel shoes, sandals, and sneakers. Block heel heights of 4-6 inches are fashionable for an indoor wedding.
2) The event's duration
How long will you and the groom stand on your wedding day? This question should lead you to determine which bridal shoes will fit the day. If you expect to stand for longer, it will be nice to be in flat shoes, block heels, sandals, or mid-heels. If the event will last fewer hours, you can get by with high-heeled shoes.
3) Type of gown for the occasion
If you want the footwear to match your white dress, then the length of your gown matters in all aspects. If you have a long white gown, you will look fabulous and gorgeous in flat shoes. The shoes should have high heels of 5-6 inches or stilettos when your gown is shorter.
4) Body weight and size
How heavy are you? It's good to know your body size and weight before picking wedding shoes. The best shoes will ideally match your body. Consider flat shoes if you are tall and have lost some weight. But, if you are short and chubby, mid-heels, block heels, or high-heels are good options.
Looking for wedding shoes? WeddingVibe can help.
WeddingVibe can assist you in planning the ideal wedding for you and your partner. We have a list of wedding professionals who can help you plan your special day. You can also look through our wedding inspiration to find the perfect wedding shoes.
In addition, we provide destination wedding planning and giveaways. Join us today for a chance to win a free Sandals honeymoon and other wedding discounts. More information is available on our website.
Free Wedding
Giveaways + Sweepstakes
Enter sweepstakes & giveaways and enter to win a free honeymoon when you join. New winners are announced every week!