With the wedding being your big day, it is only natural that you want everything to be picture perfect. Everything has to be carefully curated – from the venue and food to music and photography – so you can organize an unforgettable event that you will cherish forever. Hence your panic about designing your wedding decor, as you want it to be as luxurious as those seen in romantic movies.
The Internet offers an abundance of inspiration, be it wedding blogs, Pinterest boards, or even influencers recalling their ceremonies. But with so many ideas out there and the burden of expectations to create something gorgeous, you might quickly become overwhelmed. Not to mention your bank balance, which might suffer a considerable blow unless you take a wedding loan.
So how should you proceed with wedding decor designing to ensure a luxurious effect? Well, there are some secrets to it, including hiring a professional, focusing on focal points, and taking advantage of your surroundings. Want to know more? Here are our tips for designing a fabulous wedding!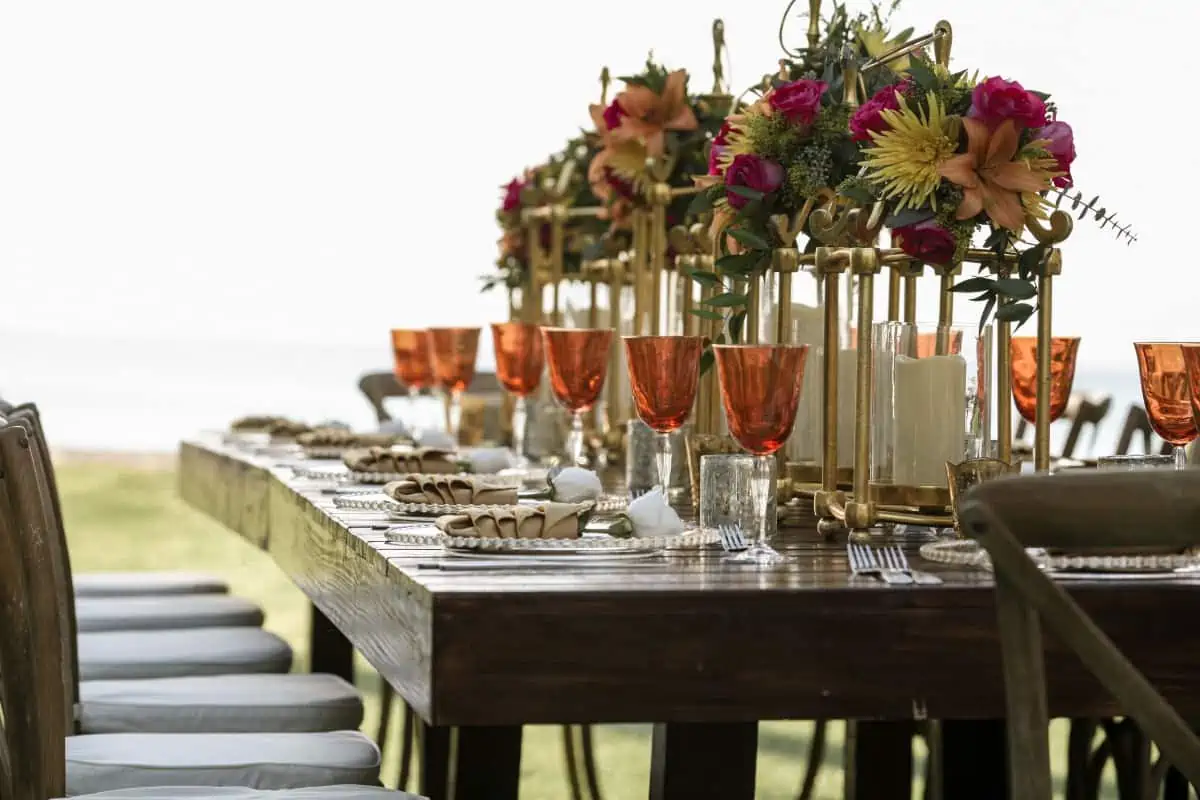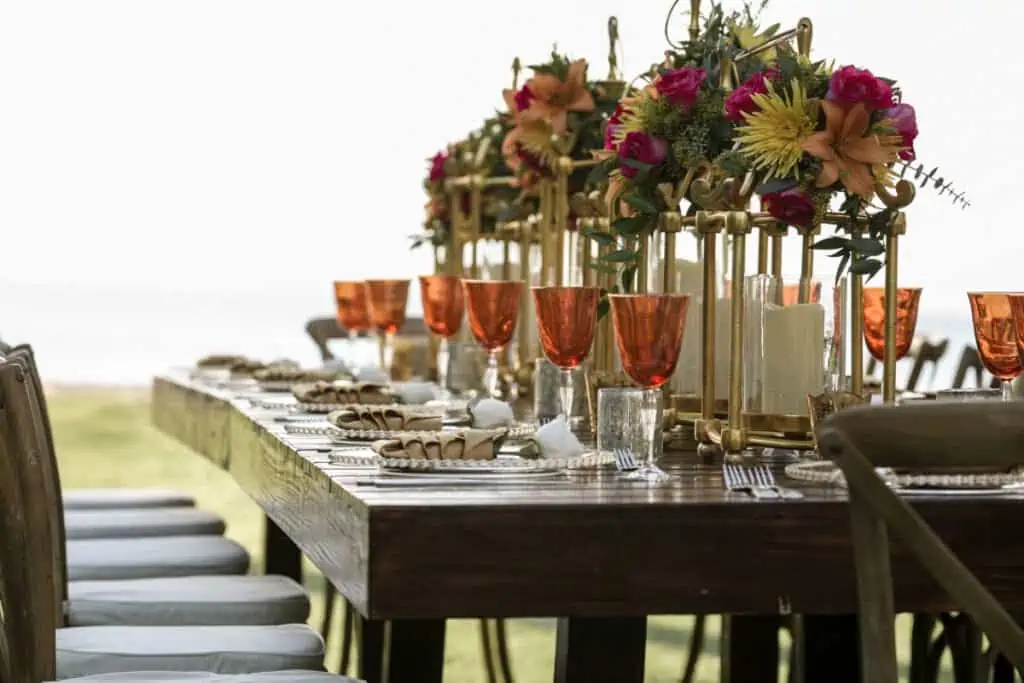 Hire a Professional
The easiest way to ensure that you have a luxurious wedding is, of course, to hire a professional. We're not saying that you are incapable of designing your own wedding decor – after all, every bride has a unique vision for her big day.
However, you will quickly discover there are so many details to arrange and options to choose from, be it gorgeous flower arrangements, customized menus, and beautiful place settings. You might try to incorporate as many of those as possible, but it can have the opposite effect to what you intended.
Hiring a professional will ensure that you get exactly what you want in terms of luxury, so long as you give them enough time and information about your concept. And with the help of a professional wedding planner, for example, you can save time and money by organizing a budget wedding. It will also allow you to concentrate on other aspects, such as selecting the right wedding dress and suit or planning a honeymoon.
Focus on Your Focal Points
If you are going for a luxury effect, the key is not in having numerous decorations in every corner of the venue. Though it certainly will convince your guest that the decor was expensive, excessive splendor is not always a good look. Rather, you should focus on having a few focal points that you can rely on to make your decor look distinguished. The rest of the decor should be built around them.
You might want to consider floral arrangements – such as bouquets, table arrangements, and archways – but you can also go for candles, crystals, or other elements that will give a luxurious touch to your wedding decor. You should place them in strategic locations where they will make a huge visual impact.
If you are not sure where to start, searching the Internet is a good idea. You will find plenty of ideas for beautiful bouquets and centerpieces that you could use. However, if you decide to work with a professional, they will also provide you with inspiration.
Leverage the Lighting
Lighting will always have an important role in design, as it can create a romantic ambiance that exudes elegance. It has the power to make your wedding decor shine from afar, providing the wow effect you want. That is why you should think about using lighting in clever ways to create a luxurious wedding that will impress your guests.
There are many different lighting options out there, including candles, which are perfect for creating a romantic ambiance. You can also use lighting to highlight specific elements of your decor, such as floral arrangements and centerpieces. The right lighting will make them even more impressive and beautiful, so long as it corresponds with your color scheme. You can also go for string lights and lanterns.
Taking advantage of natural lighting is another way to ensure your decor looks fabulous with minimal effort. Depending on where you are getting married and at what time of the day, you might be able to utilize sunlight streaming through windows or open doorways.
Consider your Surroundings
Another tip to design a luxurious wedding is to take advantage of your surroundings. If you are getting married in an old mansion or another historic venue, then there is no better time to showcase your appreciation for history than by making your decor look regal. You can go for beautiful fabrics, gold-framed mirrors, and exquisite crystalware to add an extra touch of sophistication to the décor.
You should also consider the location itself, as it could provide you with plenty of options to choose from. For example, if you are getting married in the countryside and want to create an elegant look, you should consider using natural items. This includes using fresh flowers and greenery, pine cones, wildflowers, and other greenery that you can find in the area.
Repurpose Your Decorations
As we have already established, wedding decor can be quite expensive. However, you might be able to cut some costs by repurposing certain elements from your wedding ceremony for your reception.
For example, the beautiful arch you stood under while exchanging your vows can also be a backdrop for pictures. Additionally, all the candles, flower arrangements, and lanterns used to decorate your aisle can be placed as centerpieces on tables.
Repurposing your decorations will not only save you money, but it is also an environmentally friendly solution, allowing you to use up fewer flowers and produce less waste.
Decorate With Purpose
When shopping for your wedding decor, you should be careful not to go overboard. Unfortunately, when you visit stores and browse the Internet, you are offered tons of different wedding-related items.
There is nothing wrong with the Mr. and Mrs. signs, but the key is to focus on your theme and design a decor that fits it. If you do not know how to incorporate a decorative element into your decor, you should skip it. Otherwise, you will only waste money on items that you do not really need. And with your wedding already being expensive, every dollar counts.
Remember About the Cake
Last but not least, the cake! Many people think about the cake only in terms of a dessert everybody will eat at some point, but this is a big mistake. It is another centerpiece of your reception, and it should be designed in a way that complements the rest of the decor. For example, you could decorate your cake with the same flowers that you used for your table arrangements. Or, if you have a certain theme for your reception, you should match it.
Final Word
Wedding decor is a vital part of your big day, as it sets the ambiance and creates an atmosphere of elegance. If you want to make sure it is unforgettable in the best way possible, then you should spend time on the design of your wedding decor. However, it can be quite tricky to create a luxurious wedding with all the pressure you might be feeling.
If you want to ensure you end up with gorgeous decor that will impress your guests, you should consider our tips. Hire a professional, focus on focal points, take advantage of your surroundings, and leverage lighting to create a luxuriously opulent look. You should also repurpose some elements from your ceremony for your reception.
Hopefully, this article will help you and alleviate some of the stress you are feeling. Good luck!
Free Wedding
Giveaways + Sweepstakes
Enter sweepstakes & giveaways and enter to win a free honeymoon when you join. New winners are announced every week!