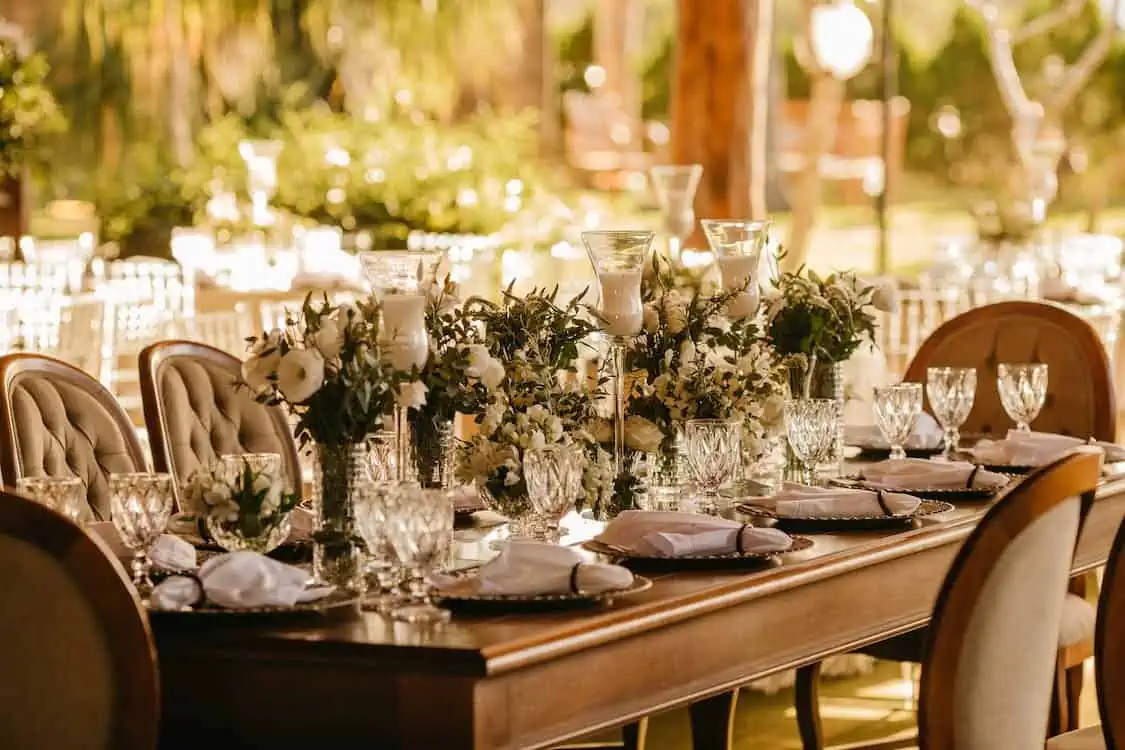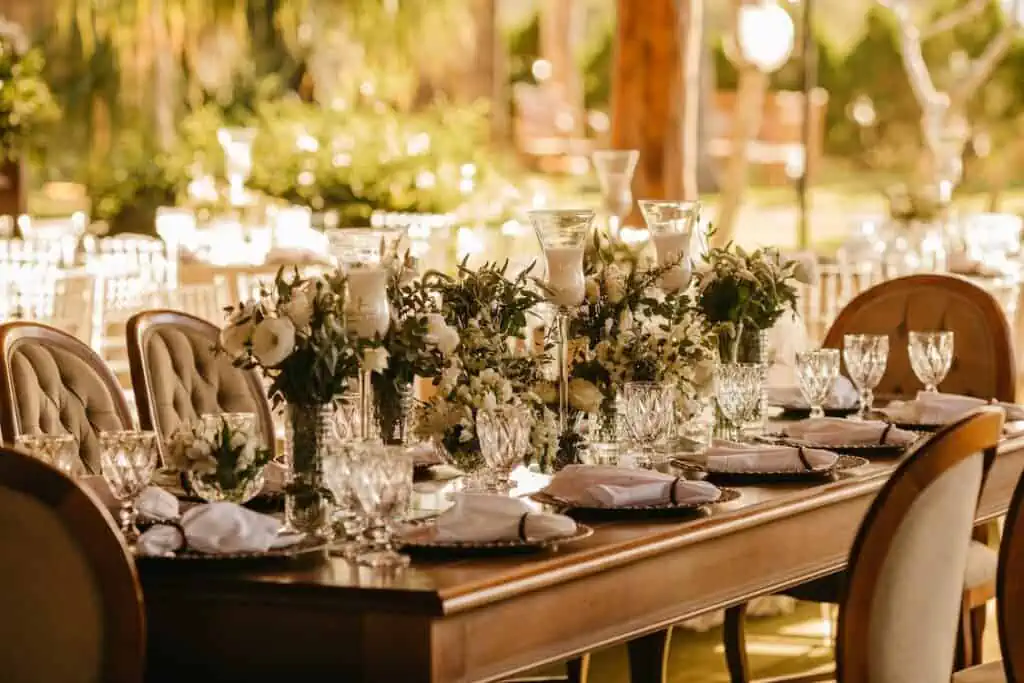 Choosing a reception set-up is one of the important decisions that couples must make before their wedding day. Couples can choose to spend their big day with a large group of family and friends or keep it small and private. The two most popular wedding reception styles that could feature in your events are the sit-down style and the buffet style. Both styles provide room for various features that can be part of the centerpieces for your dream wedding. Let's look at the two setup styles without much ado.
Sit-Down Wedding Reception Style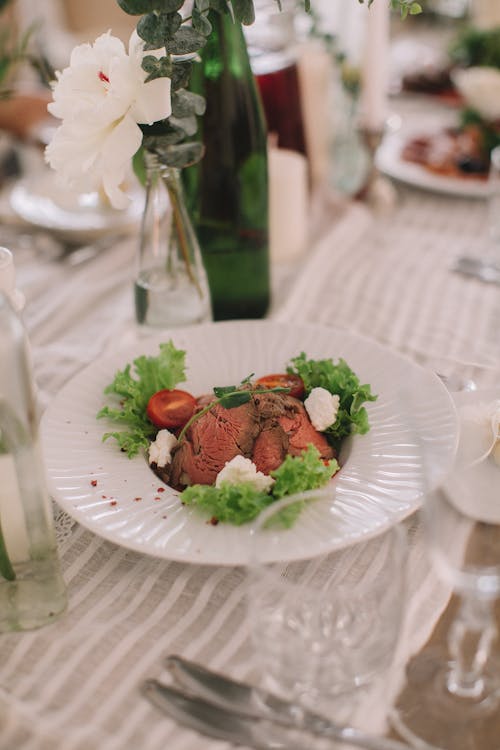 This type of wedding reception setup is usually formal in its setting, with a dance floor in its design. The style sets up round tables where people from the catering company serve different dishes on plates. The choice of this type of setup depends on the kinds of guests expected at the reception. The wedding buffet setup, which is more relaxing since most events take place at night, with more room to explore, can serve a different purpose; however, the setup enables the wedding planner to carry out the various activities for the reception. The aged and people with some form of disability may find this setup quite suitable as they are not required to serve themselves.
Benefits of Having a Sit-down Wedding Reception Style
It allows the coordinator of your wedding venue to implement the order of the event fully
The sit-down style is suitable for very formal weddings with formal guests in attendance
All guests are served their meals on the table while sitting on their chairs at approximately the same time with very slight variation
It encourages guests to interact with one another on the dance floor
The sit-down type gives enough space for special décor, flowers, and arrangements for seating which includes head table numbers, centerpieces
Buffet Wedding Reception Style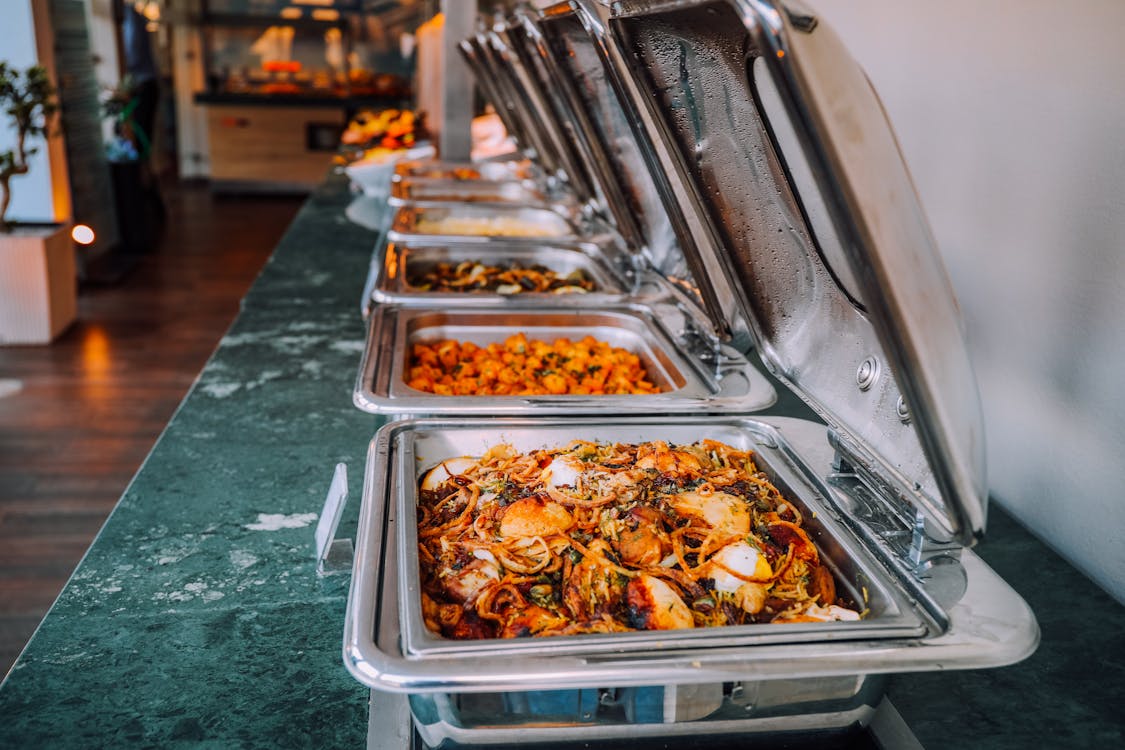 The buffet setup is an alternative to the sit-down style. As a matter of fact, a buffet of various dishes is set up on rectangular tables, and the guests on your guest book are expected to get a feel of every meal served. A strong point to note is to create an opportunity for your guests to see various dishes to try out. Although, the itinerary of the wedding may need improvement with this style because guests would be moving around to get their meals at the dinner table. If you are settling for a romantic affair, then Buffet is the style for you.
Benefits of Having a Buffet Wedding Reception Style
The cost for buffet style is lower than the sit-down style.
Wedding guests have varieties of dishes to choose from on the menu table, greatly improving the guest experience
The food served is light, with a bar for drinks
There is no need to provide extra space for the table setting for your event
You can easily set up a kids' menu table for wedding guests who come along with their kids
It allows for enough space in the venue
Factors that may influence your choice of reception type
Some factors influence the kind of style you may have; although you could follow through with our recommendations, the rest is up to you. Below are some of them:
The Type of Wedding
As an engaged couple, you must decide early to come up with ideas if you want kids to be part of your party. Some people make arrangements that cover the kids' needs. The buffet style would be the focal point in this scenario. However, the buffet might have its limitation in the form that you will be making different arrangements for a menu specific for kids at an extra cost.
Budget
Consider the sit-down style for a more traditional and plush wedding reception setting. Although this style is usually expensive compared to the buffet setup, don't forget that it allows one to decide the quantity of food each guest would serve.
Wedding Venue
Sit-down décor would require a large venue to host compared to the buffet, only requires space for the tables to be set up, and offers the flexibility to arrange decorations on the tables for guests. You would have to relate with the personnel in charge of the event to know how your setup could fit in the venue.
Number of Guests
The buffet has beautiful decor for weddings. This decor is usually suitable for a large audience; as such, if you are expecting a large number of people, then it is recommended that you choose the buffet setup. On the other hand, if you want an intimate affair with just a handful of people, then a sit-down is the choice.
Kind of Guests
Depending on the type of guests one may expect, selecting a style for your reception event can be influenced by this factor. If you expect your close friends who are picky about what they eat, then the type to settle for is the buffet. This is unlike the sit-down where everyone is served their menu.
FAQS
Do you set the table buffet style?
For a buffet style, there is a need to create room for the tables where the menu would be placed for the guests to pick from. The guests get the opportunity to interact with each other during the event.
How many side dishes do you need for a wedding buffet?
Usually, only two to three side dishes are required for a buffet party. Guests could order five to six ounces per dish.
What is typical for a buffet Menu?
Averagely, a buffet could include a salad, some rolls, and 1-2 entre options.
Planning your Wedding, Join the WeddingVibe today!
We have the best ideas and special deals at WeddingVibe. We relieve the stress of wedding planning, honeymoon arrangement, and more. Contact us today for more information on our services and how to win free wedding giveaways and contests!
Free Wedding
Giveaways + Sweepstakes
Enter sweepstakes & giveaways and enter to win a free honeymoon when you join. New winners are announced every week!