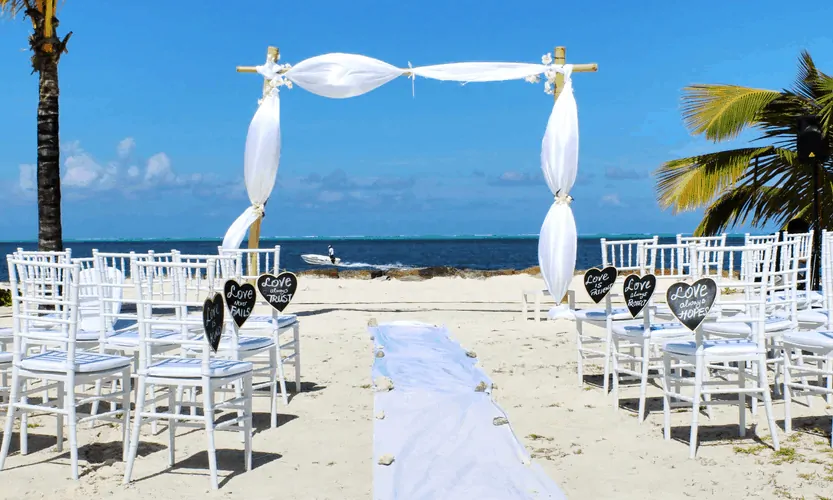 A beach wedding should be a magical experience for the bride, groom and guests. It's an unconventional venue for tying the knot, but it's also one that evokes a lot of passion and sentimentality, especially if it's somewhere that's mutually meaningful for the couple.

But just like preparing for a conventional wedding, organizing a ceremony by the beach involves a great deal of time and resources. Chief among these is the choice of a venue and all other factors that go with it.

Location is crucial to the success of any beach wedding, so choosing the perfect spot should be a high priority on your event checklist. After all, the venue is the backdrop to everything else throughout the event and sets the mood for a special occasion.

To make your beach wedding a truly wonderful moment to share with your partner, look for a great location using these helpful tips:

1. Scout for possible places
Before settling on a location, you should consider several options. You shouldn't make a random decision that could spell disaster on your special day. With this in mind, you and your partner, along with your wedding organizer, should come up with a list of resorts and other seaside venues that could be the ideal location for the wedding. From there, it's just a matter of identifying the pros and cons of each, which ones fit in your budget and which ones speak to you.

2. Ask about the prices
How much does the venue provider charge for a beach event? What is included with a beachfront wedding location and what are the restrictions? These are factors that should go into choosing the best possible location. You can call up the management of these resorts and ask for quotes, which will make it easier for you to set a realistic budget for the wedding. A less tedious way to do this is to visit resort websites so you can get a view of the rates they're offering. This allows you to save precious time as you look for a seaside area that has everything you ever wanted.

3. Think about logistics
How far is the beach from your hometown? If you're planning to hold your wedding somewhere outside your state, you might have to consider how difficult it would be to transport guests and equipment to and from the venue. To avoid potential logistical problems later on, you might want to look at estimated transportation costs for each guest, especially if you're holding the wedding in a venue as far as Maui or another island in Hawaii. If this is the case, you should be able to finalize the venue and guest list far ahead of time. For the wedding reception, you can use a local event rentals service like www.accelrentals.com for tents, tables, chairs and other items for a memorable beach wedding.

4. Consider a public beach
You don't have to spend a lot or travel far just to say your vows by the ocean. Public beaches can provide a more affordable means of holding your beach wedding. All you have to do is secure a permit from the local city council. Make sure you write a letter of intent indicating the specific location for the wedding as well as the time and date it will take place. Once your request has been approved, you will need to come up with a great design for the ambiance. That way, you and your partner won't end up shouldering a large bill for all the expenses. On a side note, make sure you review the specific rules for using the public beach. Doing so helps you avoid hefty fines for violating free use terms.

5. Find a venue that suits your theme
Whether you're looking for a seaside property in North Queensland or an atoll somewhere in the Caribbean Sea, your choice of a great location will depend on the theme you envision. The choice of a venue can help you make the most out of the ceremony. It helps if you can brainstorm with your wedding planner to create a list of possible destinations.

Picking a great location for a beach wedding may seem daunting, but there are a lot of creative and awesome ways to really bring out the best in any venue. With these tips in mind, you can find a great location that not only fits your budget but also provides a truly amazing experience as you exchange vows with your love.

Free Wedding
Giveaways + Sweepstakes
Enter sweepstakes & giveaways and enter to win a free honeymoon when you join. New winners are announced every week!