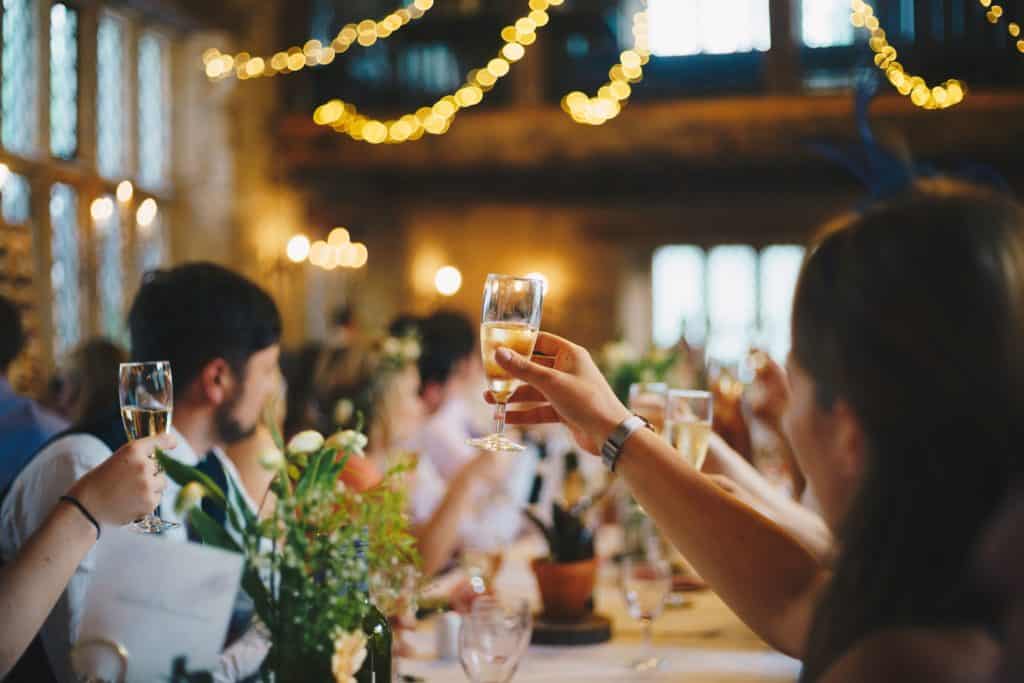 Nowadays, expectations for guests attending weddings are at an all-time high. Unless you have some sort of knockout entertainment, add a photo booth or do an engaging trivia game to entice your guests, your wedding won't be as memorable. The goal of anyone is to make sure their wedding is remembered because it is their most special day. 
So how do you help to make your wedding stand out? Don't feel pressured. This day is yours to enjoy, and your guests are there to share in your happiness. There are some fairly simple and effective ways that are creative, innovative, and will be sure to have your guests talking long after the reception.
SKIP THE DJ & HIRE A LIVE BAND 
For a truly magical event, hire a live band as opposed to a DJ. DJs are used all over and the ease of their portability is enticing, but if you're looking for memorable, the live band is the way to go. Wedding entertainment experts Around Town Entertainment, who have continually been voted as the top live wedding entertainment in New Jersey, proclaim that "having a wedding band at your reception is hands down the choice for creating a memorable atmosphere for your guests." The band you hire will be able to customize their performance to suit you and your spouse-to-be's tastes, and they can make sure to consistently entertain guests and get them out on the dance floor. They'll keep the music going and make sure to adjust the energy levels based on the guests to bring the right balance for your crowd. 
Music is one of the most important aspects of the reception. You should have a good mix to suit all ages, particularly if you will be having children attending. Live wedding bands are equipped to establish the right mix of music for your wedding attendees. Don't feel that you have to make the songs on a playlist yourself; leave it to the experts. 
HAVE A PHOTO BOOTH WITH FUN PROPS
The ever-growing popularity of photo booths has not died down…yet. Photo booths really are a fun way for your guests to start enjoying themselves before the wedding party arrives, especially if you plan on taking time to get those pictures done post-ceremony. The photo booth will be there to help people kill some time and create some fun memories for themselves as well as you and your spouse. 
The more props, the better! People love using funny glasses, blow up instruments, Hawaiian leis, and those funny cartoon-type air bubbles with hilarious sayings like, "I only came for the champagne" and "I lost count" are guaranteed to be a hit with your guests.
ENTERTAIN WITH A FOOD/TREAT "BAR"
The "bar" is becoming a highlight of wedding celebrations. Consider having your caterer do a "Sweet Treats" bar with an array of candy in your wedding colors. Or have a "S'mores Bar" where your guests can actually toast their marshmallows over an open flame. You might even just do a fun and simple ice cream sundae bar If it's an adults-only reception you might consider having a "Whiskey Bar", complete with rocks glasses and big ice balls for serving. 
You can even take it a step further and tie your "bar" into the theme of your wedding if you have one. For instance – some couples may do a sports' theme to their wedding if they love a particular team, have the treat bar set up in the team's colors, or better yet – have the treats emulate the actual sport, such as brownies shaped like hockey pucks, or maybe peanut butter balls dipped in an orange coating to make little basketballs. Let your creativeness soar with this one, but make sure not to let yourself get overwhelmed when planning – your day should be enjoyable and fun for you most importantly!
HIRE AN ENTERTAINER
Usually, the Band Leader acts as the Master of Ceremonies at a reception. If this is the case, make sure whoever you hire has a fun and exciting personality and that they will be able to get your guests really involved with some games related to the music or out on the dance floor. A different option you might consider is actually hiring an entertainer at your wedding.
The entertainer could be many things. Maybe you really love magic and can have a magician go around to the tables. Maybe you can have the waitstaff sing some numbers while your guests are having dinner as an added bonus. You might even consider having an artist who can make quick sketches or paintings of your guests, maybe as a caricature or a cartoon. This is a really creative way to make your wedding have that extra "something" that your guests will not forget.
DECK OUT YOUR FAVORS
One last suggestion to help entertain your guests would be to really go all-in on those favors. Everyone does the drink koozies or some coated candy wrapped in a pretty bow. Break from the norm and put together some awesome "swag bags" for your guests that have both practical AND fun things inside. 
Some good ideas for unique favors to give your guests include:
Personalized "name of the family" photo frames

Small plants or herbs for a garden

Mini liquor bottles or Mini wine bottles (for adults-only)

Gourmet coffee and/or chocolates

Anything with a handwritten or a personalized touch 
If you plan on making sure to party hard, maybe you can create a "hangover kit" for your guests as a practical favor. If you are having a destination wedding maybe consider a ticket to a local wine tasting or some other local, fun activity that can be done the next day before your guests return home. If you create your own BBQ sauces, jams or spices, make mini mason jars of them to share with your guests.
DON'T OVERDO IT
If your goal of entertaining your guests at the wedding seems difficult, don't be afraid to enlist help. You may have some great ideas for things but don't know how to execute getting the perfect live band for your reception or so your guests can enjoy it. Don't feel that you have to overdo it to make your wedding a smashing success. Ask family and friends for their assistance, they will be more than willing to help make your day special. These are some really simple ways that can easily get your wedding status to "incredible". But remember- regardless of the outcome, the most important part of the day is that you're saying "I Do" to the love of your life. Best wishes!
Free Wedding
Giveaways + Sweepstakes
Enter sweepstakes & giveaways and enter to win a free honeymoon when you join. New winners are announced every week!