When it comes to wedding planning, you may feel as though you have thousands of things to organize at once – from choosing the right wedding venue to hiring a professional photographer to capture every magical moment. However, while this process is incredibly exciting, it can be hard to nail down the finger details – such as the arrangements for the wedding reception. With that in mind, here are some easy ways in which you can put together an unforgettable wedding reception!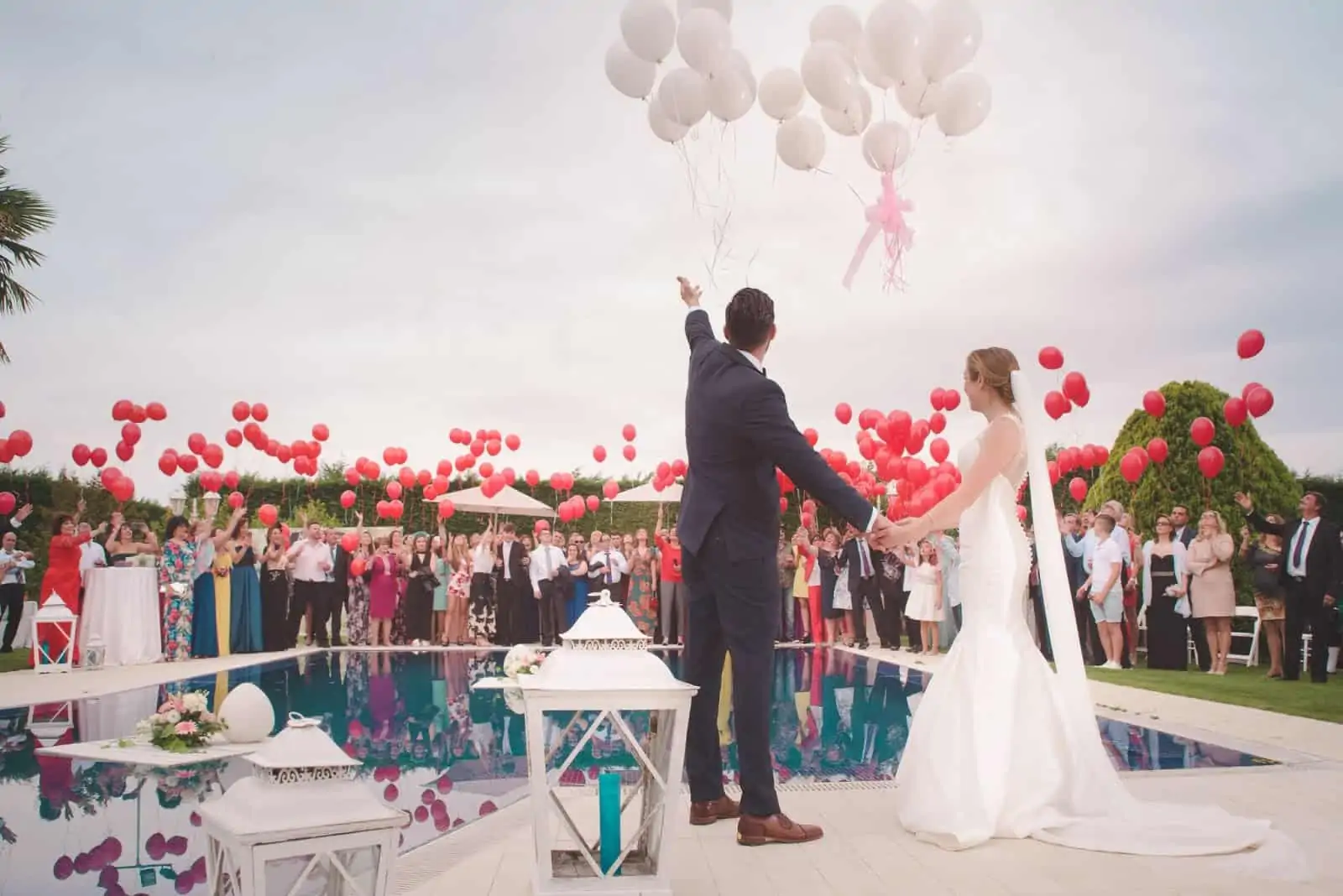 Photo by Álvaro CvG on Unsplash
Once you have selected a venue for your wedding reception, begin thinking of ways in which you can decorate it. Sometimes, a few flowers and a balloon garland can turn an otherwise simple setting into something magical. Thankfully, there are plenty of wedding decor guides available online that can guide you through the process.
Set aside a budget for your reception, so you know exactly how much you are willing or able to spend on the event.
Choose a theme for your wedding reception, whether this means you focus on a specific color theme or time period. This is a great way to develop ideas for the menu, alongside decorations and music choices. Furthemore, choosing a theme also gives you the chance to add another personal touch to the event.
Keep an eye out online for possible inspiration – whether you look at other weddings that have taken place in your venue, wedding blogs, or even get in touch with wedding planners who will be able to share their expertise and advice.
Keep guests dancing all night by putting together a 'DIY-playlist'. When sending out wedding invites, ask each guest to RSVP with a song they love. Then, put all of the songs onto a playlist and play them throughout the night – this way, each guest will be able to get up and dance to their favorite song. Don't forget to add some of the infamous crowd-pleasers on there either (Come on, Eileen…), no matter how cringy they may seem – they are a great way to get the party started.
If any of your friends or family are talented musicians, consider asking them to play a small set during the reception. This could even be their gift to you – as it helps you forgo hiring a live musician. Alternatively, you should keep an eye out for local musicians that you and your partner both enjoy who could come to the event and perform. Live music is a great way to get people up on their feet.
Set aside some time before the dancing starts for family-friendly games, such as The Mr & Mrs. Game, which is sure to bring a smile to your guest's face as you and your partner battle it out to see who knows each other better.
Hang photographs of yourself and your partner throughout the venue to share your journey with your guests. Don't leave out the pictures where you've had bad haircuts or weren't looking insta-worthy either, as these are often the best!
Keep your guests entertained throughout by hiring Arcade Game Rentals. With various games on offer, from Packman to Dance Dance Revolution, you are sure to find something your guests (of all ages) will love. This is also a great personal touch if the happy couple are big gamers themselves.
While traditions are fun, remember that your wedding should be all about YOU. This means that you get to decide exactly what happens during both the reception and ceremony and have the option to make each moment truly unique to yourself and your partner.
Keep your guests happy (and their bellies full) by providing them with delicious food and drink throughout the evening. For example, if you plan for the party to extend late into the night, you could provide your guests with a light snack before they retire. (Think: Midnight Pizza delivery).
Leave disposable cameras throughout the venue, allowing guests to snap their own photographs throughout the night. This is an excellent way for you to look back on the event and reminisce every moment – even those you might have missed yourself.
Commemorate the day by having guests sign some kind of guestbook, where they can share happy memories you've shared or well-wishes for your marriage. If the idea of a guest book sounds a little too traditional for your tastes – have the guests sign something that has particular importance to yourself and your partner. For example, if you met at a skatepark, why not have everyone sign a skateboard?
Hire out a photo booth so that each guest can have something to take home with them after the party. Even better, they often come in a variety of themes and with plenty of props – making for some interesting (and hilarious) photographs.
When putting together your wedding breakfast, try to consider the needs of all guests. For example, if you are providing them with a few options for their main course, ensure that there is something suitable for any vegan/vegetarian guests available. One way in which you can make this process easier is by encouraging guests to inform you of any specific dietary requirements ahead of time.
Unless you have opted for a child-free wedding, ensure you have something lined up to keep the children entertained. This could be simple, such as a few party games here and there, but could also include tasty snacks such as a chocolate fountain or pick and mix table (although their parents might not thank you for the latter).
In short, there are many different ways in which you can plan the perfect wedding reception, but the most important thing is that you simply learn to live in the moment and enjoy it. During the reception, try not to worry about whether or not people are having fun or if enough people are dancing, and simply focus on yourself and your partner. This is your special day, after all!
Free Wedding
Giveaways + Sweepstakes
Enter sweepstakes & giveaways and enter to win a free honeymoon when you join. New winners are announced every week!